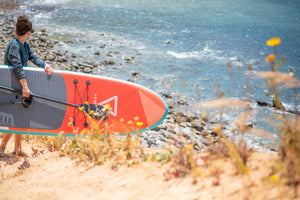 FACTORY DIRECT DEALS EVERY DAY
There is nothing more positive than a High Five, it's the universal symbol of happiness. At Voltsurf, our brand purpose is to share the excitement and have a front row seat to your life's most incredible moments. We get that seat by making quality boards for quality people. On your next session, we ask you to share the love, and let the stoke be contagious. High Five someone today, High Five Life with Voltsurf!
Inflatable Standup Paddleboards
In Stock & Ready to Ship Now
PARTY BARGE
Supports 1,200lbs of Goodtimes
Weighs only 42 LBS deflated and can be transported with no hands required, using an included over-the-shoulder sling.
Shop Docks
★★★★★

This place is amazing! The show room is well put together! The vibes are immaculate. And most importantly the product are very high quality.

Damarys Salladay-Perez

Orange County, CA
★★★★★

These guys go out of their way to answer any questions that you have. Very helpful and friendly staff. Definitely recommend this brand to my friends.

Todd B.

Riverside, CA
★★★★★

Great staff! They treat their customers with a "like family" approach. We've gotten a few of their boards and gear. Between my friends and family we have been impressed with the product and service. Life long customers 👌 😁

Alex Walls

Scottsdale, AZ
★★★★★

Absolutely incredible service! The order shipped the same day and delivered sooner than expected. Had a question about one of the boards I purchased and customer service scheduled a FaceTime call to help me out. Couldn't be happier with the experience!

Ryan Schneider

Laguna Beach, CA
★★★★★

Customer service on point! Quick and very easy to navigate the site. And they shipped real fast as well! Customer for life!!!

Josh Bright

Las Vegas, NV